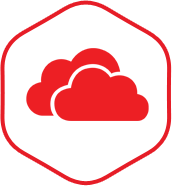 New to Cloud?
Fortis Hosting can help create the best path into the Cloud for you. Our friendly industry experts will assist in tailoring the 'best fit' for your organisation. We understand that there are many options available in the Cloud and not all suits everyone. We will guide you ensuring security, scalability, costs, performance and reliability are all catered for. With our help, it will be clear to you moving to the Cloud will provide the best return and investment for your company.
Experienced in Cloud?
You may already be in the Cloud utilising services and want to migrate to a more efficient platform or one that offers better security. Your organisation may have grown rapidly and now you need true scalability or improved management and control. Possibly you may need to look to clustered services, multi-site load balancing or a MPLS network. No matter how entwined you are in the Cloud already or how complex your requirement is, we can still help.

Service Examples
Multi-site connections through VPN or MPLS
DR site replication
Dedicated firewalls
Multi-site load balancing
Datacentre Migration
DDoS Mitigation

Data Centre Facilities
State of the art Tier 4
99.99% uptime of network
99.99% connectivity to upstream carriers
99.99% generator backed power
24/7 manned security and CCTV
24/7 access to hosted equipment
To find out more information or to discuss a possible solution for your company please give us a call today on 0203 642 3040. We are waiting to take your call.