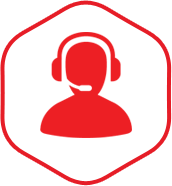 Intelligent PROActive IT Support
We offer IT support with a flexible approach that is tailored to your business. Whether your company employs half a dozen or a couple of hundred members of staff, we will take over responsibility for keeping your network running smoothly, secure and reliably.
Our service is ideal for small to medium-sized organisations that want cost-effective IT support with hassle-free management. Central to our support package is your dedicated account manager, who will ensure that you experience the best in customer service. With guaranteed response times, our highly qualified and experienced engineers drive this service, so that you can always be confident that when you come in to work your IT system will perform as it is designed to do.
Prevention is better than cure, which is why our PROactive monitoring will ensure problems are quickly fixed before impacting on your business. Our platform benefits from remote monitoring and management (RMM) which will help you significantly improve your operational productivity and efficiency by leveraging the power of IT automation.
This functionality will take care of any repetitive IT maintenance task or process, monitor mission critical network components and automatically run auto-remediation programs, and so much more! Automation of our support services not only ensures less problems for you, our customer, it also enables us to deliver our support at a cost effective rate.
Automation > Fewer Incidents > Increased Stability > Improved Efficiency
We maintain confidence with our customers by being fully accountable for what we do and provide. Monthly graphical reports on your network's health and on the support that has been done to keep it running will give you the peace of mind.
Regular scheduled IT management meetings with your designated account manager ensures we maintain a close relationship with you and together we can build the best IT roadmap for your organisation moving forward.
Having close partnerships with major IT vendors such as Microsoft, HP and Dell, but not being tied to them ensures we have freedom to pick the best solutions for you on merit and for no other reason. These are just some aspects of our support service our customers benefit from and allow us to be efficient, reliable and predictable in terms of costs and excellence of service.
Unlimited support
Fixed price
PROactive network monitoring
Guaranteed response times
Visibility: Monthly network health reports
Transparency: Monthly support stat reports
Daily software updates / patch management
Software / hardware vendor management
Dedicated account manager
Scheduled management meetings
UK based support engineers
24/7 cover available
How does our pricing work?
Based on your network support requirements we charge a fixed fee per user that's fair with no hidden costs. This means you can call us as and when you need and it won't affect your fixed rate.