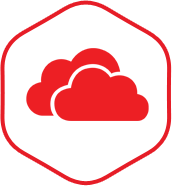 Cloud-based web security
The web has opened the door to infinite business opportunities for both your business and the business of cybercrime. Each web connection provides a potential entry point for infection, malicious infiltration, and corporate risk. By applying advanced data correlation and the most extensive threat data available updated 24/7 by McAfee® Global Threat Intelligence™, McAfee SaaS Web Protection offers easy, feature-rich, vital defenses against dynamic web based malware attacks.
Comprehensive cloud-based web security for a safe, secure network, powered by McAfee
Continuous updates protect the whole network, even roaming users, against fast changing malware, spyware, and phishing.
Enforces Internet usage policies an provides visibility to web usage through detailed reports by user or group.
More than 100 content categories allow flexible content control to help protect your business against legal liability.
Reduces capital requirements, ongoing expenses, and maintenance time, enabling IT to focus on business-enabling projects
Real-time scanning of web content to defend against both known and unknown threats
Seamless and automatic enforcement of policies that can leverage user synchronization with Active Directory
Reduces bandwidth requirements and improves throughput
Customized rules based on employee needs and requirements
Dynamic query engine with the ability to export data for use in external business intelligence tools and records management systems